The most wonderful time of the year is just around the corner and that means holiday shopping is in full swing! Yes, even in October. Many people start planning early, so there's no time like the present to explore the newest trends for holiday shopping in 2023 and offer up some tried-and-true spending tips to make sure we all have a Happy New Year too. 
In this article, we'll highlight some seasonal insights from the National Retail Federation (NRF) and other consumer analysts. We'll also provide valuable tips on how to avoid overspending during the holidays and how you can use your Discovery FCU Visa® credit card to your advantage while you merrily gift to your heart's content.
2023 Holiday Shopping Trends
The Early Bird Gets the Best Deals?
The NRF predicts that the holiday shopping season for 2023 will kick off earlier than ever. Consumers have learned from past experiences like higher costs, out-of-stock items, and late deliveries, so they are getting a head start on their gift lists to avoid last-minute rushes or unwanted surprises. 
We've already seen major retailers kick off holiday promotions as early as October, allowing shoppers to snag the best discounts without the pressure of time constraints. 
But that doesn't mean Black Friday or Cyber Monday are going anywhere. Last year, almost 200 million people shopped over Thanksgiving weekend – more than each of the last five years.
Sustainable Gifting
Sustainability is not just a trendy buzzword anymore; it's a way of life. Holiday shoppers in 2023 are focusing on eco-friendly, fair-trade, and sustainable products, and this growing demand will translate into gifts that are ethically sourced, made from recycled materials, energy-efficient, and/or that promote a greener lifestyle. 
Businesses that emphasize their commitment to sustainability will likely see an increase in consumer trust and loyalty – and an uptick in holiday sales (so, consider buying early).
It's the Thought That Really Counts
Personalized and personable gifts are set to be all the rage in 2023. Thoughtful shoppers are looking for unique and heartfelt presents that reflect the recipient's personality and interests. From custom art and jewelry to monogrammed clothing and accessories, the holiday shopping trend is to make every gift as special as the person receiving it.
Online Holiday Shopping Continues to Thrive
Online shopping has seen a significant rise in popularity in recent years, especially with the global pandemic. But even as we've come out of the COVID woods, consumer data suggests that at least 75% of holiday shoppers plan to buy their gifts this way in 2023. It's just convenient.
Checking off Christmas lists from the comfort of home – or anywhere really – makes online and mobile shopping a hassle-free, streamlined way to search and purchase a vast selection of items. It's also a handy tool for bargain hunters who like to browse for gifts and leave their tabs open until expected discounts arrive.
Without a doubt, e-commerce will remain a dominant player in the holiday shopping game.
People Have a Wish List for Retailers Too
Holiday shoppers are discriminating and with the wide resources available, especially online, they expect more from the places they shop. Consumers want a good deal and good value, but they also want a great customer experience: personable service, fast delivery, good return policies, and lots of product selection.
Always check out the return policy and reviews before buying your gifts.
Local and Artisanal Holiday Shopping
Supporting local businesses and artisans has become a priority for many shoppers. This trend coincides with the trend away from mall shopping – forcing many commercial real estate owners to find other, novel uses for their mall properties. That's why Small Business Saturday (the day after Black Friday) has grown every year, generating billions of dollars in sales for the little guy
For the 2023 holiday season then, we can expect a surge in interest for locally-made products and handcrafted, artisan gifts. In fact, the U.S. Chamber of Commerce predicts that at least 75% of seasonal shoppers will trade big shopping complexes for local, brick-and-mortar stores. Small businesses and independent artists will thrive by providing unique and meaningful gift options that you just can't find in a big box store.
Another Major 2023 Trend – Not Overspending During the Holidays
As exciting as holiday shopping can be, overspending is a common headache – especially when the holidays are over and the high-interest credit card bills start arriving. But, with rising costs on almost everything due to inflation, consumers are focusing on fiscal responsibility, bargain hunting, comparing discounts and deals – basically, any way to save a buck or two.
To ensure your festivities remain merry and financially stress-free, here are some tips to avoid the pitfall of overspending in 2023:
1. Set a Holiday Budget
Establish a clear and realistic budget for your holiday spending, taking into account all the expenses, including gifts, decorations, parties, and travel. Stick to this budget to prevent financial stress come January 1st.
2. Make a List
Create a list of everyone you want to buy gifts for, and set a reasonable spending limit for each person. This helps you stay organized and avoid impulse purchases.
3. Shop Early
Starting your holiday shopping early allows you to spread out your spending over several months, reducing the financial burden during the holiday season. In fact, over 50% of consumers plan on starting their gifting as early as October. (Only 14% are expected to wait until the last minute.)
4. Take Advantage of Sales and Discounts
Keep an eye out for sales, both in-store and online. Black Friday and Cyber Monday, for example, offer excellent opportunities to snag great deals – but as we mentioned, retailers are staying on trend and offering discounts early to attract those early holiday shoppers.
5. Manage Your Spending on the Go
Yes, you can put the power of technology to work for your holiday shopping and budget. Our Discovery FCU Cards app (available on the App Store and Google Play) helps you manage your debit and credit cards with ease – right from your phone. It features:
Digital Convenience – You can easily share your new card to your mobile wallet – even before you get your card. Plus, if your card gets lost or stolen, you can receive a digital replacement in no time.

Card Management – View your transaction and payment history.

Simple Bill Pay – Conveniently make your credit card payments via the Cards app.

Notifications – Activity alerts enhance security for your Discovery FCU credit or debit cards.

Security – Manage your cards with confidence, knowing our app is built with your personal and financial security in mind.
Should I Use a Credit Card for Holiday Shopping?
While some may overspend on high-interest credit cards and later regret this when the New Year rolls around, the right credit card can actually be a valuable tool for holiday shopping. The Discovery FCU Visa provides various benefits that go beyond just making purchases. Here are some of the advantages:
Less Interest = More Merry
First and foremost, a Discovery FCU Visa® credit card does not come with the burdensome high interest rates that other major credit cards often do. Our low rates, coupled with sound financial practices (like we mentioned above) can keep the season bright and your gifting game strong.
Fraud Protection
Credit cards often come with robust fraud protection features, and the Discovery FCU Visa® credit card is no different. If your card is used fraudulently, your liability is typically limited due to Visa's Zero Liability Purchase Policy*. This is an important safeguard when shopping virtually, in crowded stores, or when traveling for the holidays.
Convenience
Credit cards offer unmatched convenience, especially when shopping online. You can make multiple purchases without having to carry large sums of cash. With Apple Pay and Samsung Pay, you may not even need the card itself! Your mobile phone will do the trick.
Additionally, the Discovery FCU Visa is accepted worldwide, and credit card statements will provide detailed records of your transactions, simplifying your budgeting and expense tracking.
You can also easily make payments online, by mail, or in person at Discovery FCU.
ScoreCard Rewards
The Discovery FCU Visa® credit card also offers a valuable rewards programs – ScoreCard Rewards – which allow you to earn points for every qualifying purchase. These points can be redeemed for airline tickets, rental cars, hotel stays, cruise and vacation packages, and any of the 1,500 items in the ScoreCard Rewards Merchandise Catalog. 
This can add an extra layer of savings to your holiday shopping experience – and keep the merry going all year long!
Build Credit
Responsible use of credit cards can help you build and improve your credit score. This can have long-term financial benefits, such as lower interest rates on mortgages and other loans.
On Trend for Holiday Shopping 2023: The Discovery FCU Visa Credit Card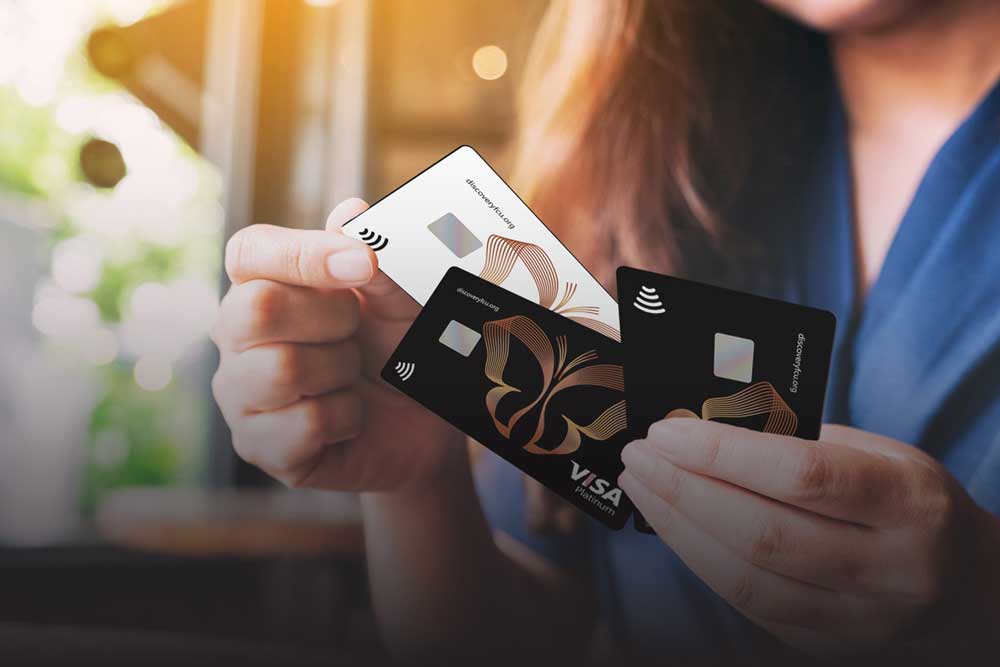 This holiday season is poised to be exciting and filled with diverse trends, from early, online shopping to local mom-and-pop shops and ethically-sourced gifts.
To make the most of this festive season, make a list, set a budget, take advantage of sales and discounts – and maximize the benefits of a Discovery FCU Visa® credit card.
Our Visa gives you added convenience, fraud protection, ScoreCard rewards, plus all-important lower interest rates and no annual fees or balance transfer fees. 
So, as you embark on this merry season of giving, keep these 2023 holiday shopping trends and tips in mind. Then, you're sure to be well-prepared for a joyful, financially-healthy holiday and fantastic New Year. 
From all of us at Discovery FCU, happy shopping and happy holidays!